This week I'm sharing some neat metal and wood mashup projects. If you've got a metal cutting bandsaw and welder, these will be easy. If you've got a hacksaw and drill, these will still be totally manageable. Have at it!
On Fridays we share four pallet projects that make us love free pallet wood! While there's usually a theme, sometimes it's just random ideas that we feel like sharing. You can find all included projects on our

Pinterest board

of the same name. Enjoy 4 Pallet Fridays!

View all in 4 Pallet Fridays &raquo
Rustic Metal and Wood
Yikes! It's been five weeks since the last 4 Pallet Friday! Last time, I shared pallet wall ideas with you. I guess I took some time off, but I'll try to do better. If you want to help me out and write your own 4 Pallet Friday post, let me know in the comments.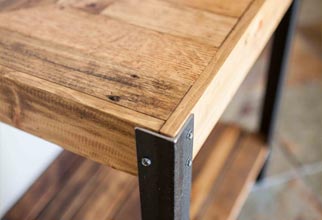 Side Table with Metal Legs
A neat table design from @woodandwiredesigns using angle iron and screws for the legs. Once you've built the top and lower shelf out of pallet wood, you can easily attach the legs. Sometimes hidden joinery is not the right decision. On this rustic piece, seeing the screws really sells it. You're gonna want to see more photos of this one – check out the original on Etsy below.
view: original | on Pinterest
---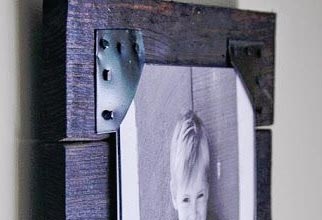 DIY Rustic Pallet Frames
These DIY pallet wood and metal picture frames are so cool! I really like frames that make it easy to swap pictures. @littlehouseoffour knocked it out of the park on this project. I want to make some right this second!
view: original | on Pinterest
---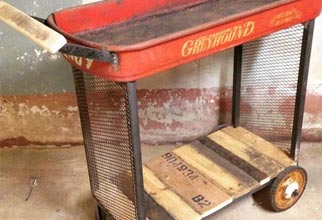 Little Red Wagon Cart
Who doesn't love a repurposing project? When you grow up and don't need your little red wagon anymore, it's time to turn it into something useful! This looks like a fairly advanced project – but the results are worth it. Pallet wood for the handle and bottom shelf are a nice touch.
view: on Pinterest
---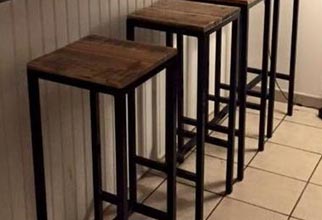 Pallet Wood & Metal Stools
I can't find the original post for these. Some websites just steal things and share them with no credit given to the creator of the work. Ugh! If you know who made these, let me know. I think from the looks of it, these are similar to the first in today's post. More angle iron, and a bit of welding to make what looks like a very sturdy stool.
view: on Pinterest
Submit your favorites
Which of these four metal and wood projects do you love the most? Gonna try to make any of them? Do you have any pictures or pins that you'd like to see featured in our next 4 Pallet Friday? Let us know in the comments below or on social media with the hashtag: #4PalletFriday.
See you next week!