This week I'm featuring shop projects that can be completed with pallet wood. It's no coincidence since I'm planning a major cleanup of my messy workshop. Check these out and then share your favorites down in the comments.
On Fridays we share four pallet projects that make us love free pallet wood! While there's usually a theme, sometimes it's just random ideas that we feel like sharing. You can find all included projects on our

Pinterest board

of the same name. Enjoy 4 Pallet Fridays!

View all in 4 Pallet Fridays &raquo
Shop Organization Pallet Projects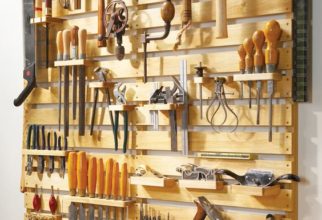 Pallet Tool Rack
Drilling a bunch of holes in your wall is annoying, especially if you're drilling into masonry. If you simply attach a couple uprights securely, you can bridge them with horizontal boards to make a superimposed tool wall. After that, go to town adding tool holders, hooks, and clips with ease and no remorse if you have to move anything in the future.
view: on Pinterest
---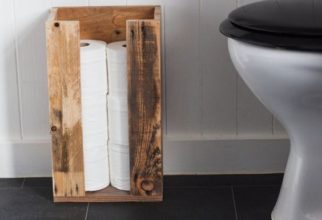 Shop Towel Holder
Okay, I know. That's toilet paper. But bear with me a moment. Can you imagine scaling the dimensions up a bit and making it fit rolls of shop towels? I can and I'm gonna! This would be a big help to keep the extra paper towels nearby when the one you're using runs out in the middle of a project… as they always do.
view: on Etsy | on Pinterest
---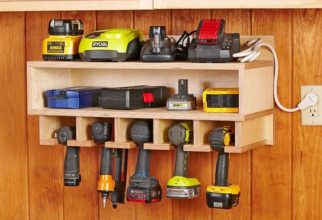 Pallet Wood Drill Storage
This… is… beautiful!!!!
Our drills, batteries, and bits deserve better, don't they? This rack look great too. Stop throwing your drills wherever and give them a permanent home!
view: on Pinterest
---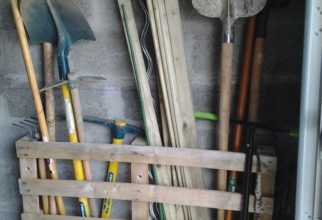 Garden Tool Bin
It can't get any simpler than this. You could even use a full pallet without even breaking it down. Just stand it up on end and screw it to the wall. Instant storage for shovels, rakes, and brooms. Almost too easy.
view: on Pinterest
---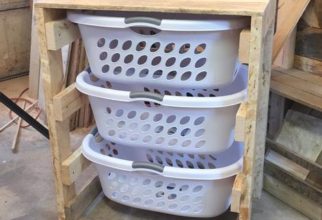 Tool Bin Rack
Take a few plastic bins from the dollar store and make a vertical rack for storing them efficiently. I really like this one because covered bins are expensive and stacked tool boxes are hard to get out. So giving them rails to slide on makes this simple, cheap, and accessible. Pallets for the win!
view: original | on Pinterest
Submit your favorites
Hit the comment section below with your favorite, shop organization pallet projects. I might use them in my workshop cleanup and I'll be very thankful!
Have you tried any of these organization projects with pallet wood? Let us know below or on social media with the hashtag: #4PF.