It's Tuesday, and I've been looking at tools again. This time I'm obsessed with stencil cutters. Here's what I've been looking at: the Silhouette Cameo and the Cricut Explore.
I need help deciding, so hit the comments below and let me know what you have and why you like it.
Why a cutting machine?
Personal, desktop cutting machines are like printers with blades. Basically, they are a CNC router's baby sister. So what can you do with them? Lots.
Here are a few tasks you can tackle with a cutting machine like the Silhouette Cameo 3:
stencil making
custom t-shirts
vinyl decorations
etched glass
greeting cards
Silhouette Cameo 3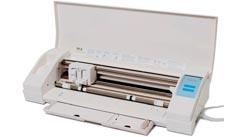 The Cameo 3 is pretty new, but you can usually get it in a starter bundle for less than $300. Check current price on Amazon »
While not as strong as the Explore Air, the Cameo is suited to cut most paper, vinyl, and thin fabrics. It's able to cut up to 12-inch x 10-foot media. The new model has dual cartridges, which means you don't have to change tools as often. It's even got Bluetooth and works wirelessly if that's your thing.
Here's what I would call the extras…
The Cameo 3 let's you take photos with your smartphone and send them to the cutter. It will also cut out designs that you've printed on your regular old printer. I really don't see myself ever using these features.
Two things I would use all the time are the optional Autoblade and the high quality software. The Autoblade is a self-adjusting blade that eliminates the need for you to make adjustments between cuts. From everything I've read, the software is a dream to use. It doesn't restrict you at all, like the Cricut apparently does, has a real professional feel, and it's fun to work with.
Last year's model is cheaper!
It's actually older than that, but the Silhouette Cameo 2 is around $100 cheaper and maintains the basic functionality. The software is virtually the same and the cutting capabilities are comparable. You do give up the dual cartridges and the Autoblade, however.
See the (cheaper) Cameo 2 on Amazon »
Cricut Explore Air
Cricut's newest cutting machine is the Explore Air. it's also available in a starter bundle for less than $300. Check current price on Amazon »
I'm reading reviews that say the Cricut cuts so much better through so many more materials that it's an obvious choice. Also, the Explore is supposedly easier to learn in terms of its software. But that's apparently due in large part to its lack of functionality. If you're a pro with Photoshop or Illustrator, you'll find the limitations of the Explore software to be quite annoying.
It can only cut and draw up to 12-inch x 24-inch media. How often do you need a 10-foot banner anyway? Just like the Cameo 3, the Explore Air comes with dual carriages and Bluetooth, but is only compatible with iPads. Reasonably comparable to the Autoblade accessory, the Explore has a Smart Set Dial – an external control for blade adjustment. That's useful.
Here's where they lose me…
The Cricut software is an online-only tool. So you will need an internet connection at all times to use the machine. You also can't create advanced designs from scratch within the software, but you can import SVG files and perform very minor adjustments. While I don't think I'll ever want to use my cutting machine on a camping trip, I do see the online-only software thing as a big annoyance.
So which one do I choose?
All the reviews state it clearly: the Cricut Explore cuts thicker, denser materials and the Silhouette Cameo has less restrictive software and handles longer sheets. So which one is right for me?
Since the prices are generally the same, I'm torn. Both seem like they'd do the job but I'm worried I might run into their shortcomings – regardless of which one I choose. Ahhh! Help me choose!