I actually made a pallet wood tray for my wife a few years ago. And then my mom wanted one, so I made another. It was so simple and quick to make that it inspired me to make more things out of pallets and even start The Recharge Workshop!
On Fridays we share four pallet projects that make us love free pallet wood! While there's usually a theme, sometimes it's just random ideas that we feel like sharing. You can find all included projects on our

Pinterest board

of the same name. Enjoy 4 Pallet Fridays!

View all in 4 Pallet Fridays &raquo
Pallet Wood Trays
What's your favorite pallet wood tray design? Share it down in the comments.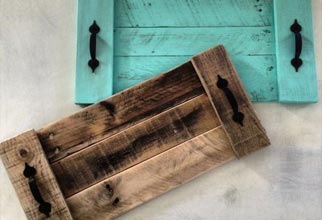 Simple Pallet Tray
Let's start off with the simplest pallet tray I've ever seen. This is the same style that I copied years ago when I made mine. It's three long boards and two short boards, a handful of screws, and a set of decorative drawer pulls for handles. Doesn't get any easier!
view: on Pinterest
---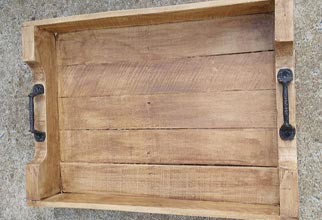 Box Tray
Here's another simple, rustic look. This version uses the stringers as two of the sides to form a box. The natural cutouts for the forklift make a great indent for placing the handles. I like the added carrying capacity of this design as well as the inclusion of the original pallet's shape.
view: on Pinterest
---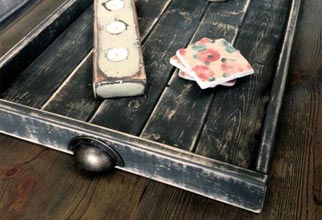 Clean Box Tray
Just like the previous one, this is a box tray. It holds more things securely and has more purpose in home decor as well as its use at a party. But unlike the previous tray, this version has a much cleaner look. Thanks to its thin sides and clamshell handles, this pallet wood tray could turn some sophisticated heads. I like that the box style allows for the handles on the outside instead of the top too.
view: on Pinterest
---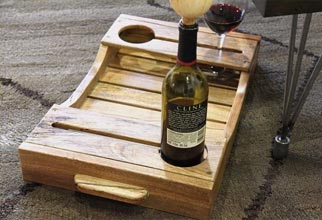 Fancy Cup Holder Tray
We've had simple. Now it's time for complex! This pallet tray design is not for the faint of heart (nor the novice woodworker). But it sure looks worth the trouble. I'd skip the wine glass stem slots and just include four cup holders in the corners. Then you've got a great tray for carrying drinks and snacks with no worry of spilling a thing! This goes on the to-do list…
view: on Pinterest
Submit your favorites
Have you tried any of these tray pallet projects? Do you have any favorites you'd like to see featured in our next 4 Pallet Friday? Let us know in the comments below or on social media with the hashtag: #4PalletFriday.