These five projects are absolutely simple. No muss, no fuss. Just great ideas for your next pile of reclaimed wood. The goal here is minimal tools (or no tools) and finished in the same day. Have at it!
On Fridays we share four pallet projects that make us love free pallet wood! While there's usually a theme, sometimes it's just random ideas that we feel like sharing. You can find all included projects on our

Pinterest board

of the same name. Enjoy 4 Pallet Fridays!

View all in 4 Pallet Fridays &raquo
Simple Pallet Projects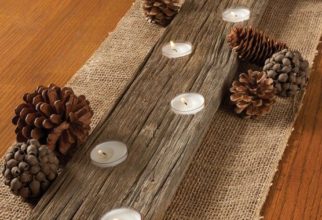 Rustic Lit Candle Holder
It's one board! Cut it to length – or don't – drill holes, place votive candles… DONE! The hardest part is picking out the right pallet board. If you've got an hour, you could make 5 of these at least.
view: original | on Pinterest
---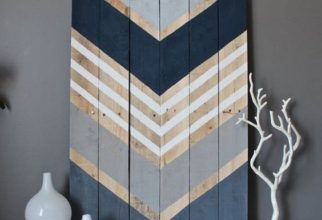 Chevron Painted Sign
Uh oh! I count six boards here – what gives? Well today's theme isn't "single board" pallet projects, so ease up. Besides, this one by @sambeedesigns only has a single complication: attaching the boards together. Oh yeah, and picking out paint colors…
view: on Pinterest
---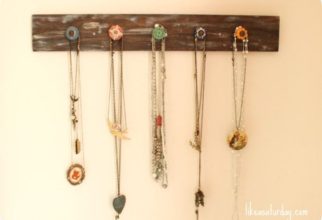 Necklace Hanger
This could always be used to hang anything, not just necklaces. But with the interesting hanging hooks being colorful door knobs, it just looks perfect for jewelry since you won't see them if you hang a coat on them. Once again it's a single pallet board – lovely & simple.
view: original | on Pinterest
---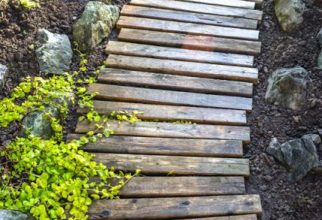 Pallet Wood Walkway
I want this! I want this so bad I'll buy the first house I see for sale with a garden space in need of a walkway. Seriously, this project by @funkyjunkinteriors makes me want to do landscaping… yuck!
view: original | on Pinterest
---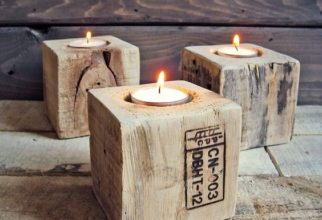 Tea Light Blocks
If you've broken down your share of pallets, you've undoubtedly come across these riser blocks. The trash can or the fire-pit is where they usually go. But why? You can find some really clever uses for them and these simple candle holders are a perfect example.
view: on Pinterest
Submit your favorites
Hit the comment section below with your favorite, simple pallet projects. The easier the better. You might see your favorites in a future 4 Pallet Friday post.
Have you tried any of these simple pallet wood projects? Let us know below or on social with the hashtag: #4PF.