It's been a couple weeks since I last posted a #4PF. In fact, until now, it was "5 Pallet Friday". I felt I needed to change it to just four projects because I wanted an easier win. So this week there is no theme, but these pallet projects are still great. If you have any more random pallet projects for me, share them down in the comments.
On Fridays we share four pallet projects that make us love free pallet wood! While there's usually a theme, sometimes it's just random ideas that we feel like sharing. You can find all included projects on our

Pinterest board

of the same name. Enjoy 4 Pallet Fridays!

View all in 4 Pallet Fridays &raquo
Random Pallet Projects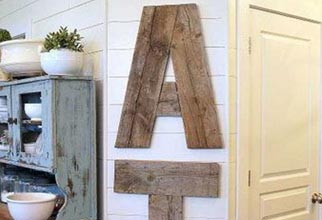 Kitchen Sign Letters
This one makes me wish I had a large open wall in my kitchen. Of course, pallet wood letters could be placed on any wall in my house. So maybe I'll start writing on my walls.
view: on Pinterest
---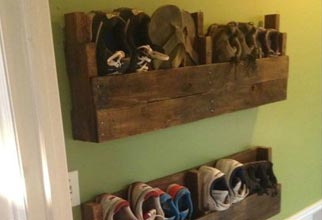 Easy Shoe Rack
There are plenty of ways to build a shoe rack. With pallet wood, you can handle most of them (especially the rustic ones). But this is a project made specifically for pallets. This shoe rack is basically a pallet that has been sliced up and attached to the wall. That's pretty awesome and simple to make.
view: on Pinterest
---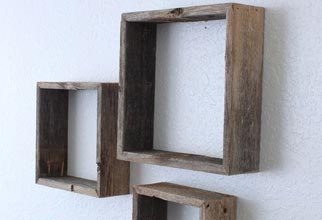 Open Box Shelves
Super easy project right here. Four miters or even use butt joints. If you have any woodworking tools at all, you can make your own shelves like these. Consider painting them fully or just on the inside faces for some extra style.
view: original | on Pinterest
---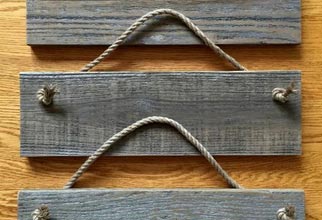 Rope Hung Signs
More simplicity here. Take a pallet board and some rope. Cut to length, drill holes, tie knots. You've got a really neat looking sign board. You can paint a name, phrase, or design on the sign and customize your decor. With slight modifications and maybe an extra board, this could easily be used as a photo frame/backdrop.
view: on Pinterest
Submit your favorites
Have you tried any of these random pallet projects? Let us know below or on social media with the hashtag: #4PF.