Yesterday was Star Wars Day and we created and shared some really cool DIY/Yoda wallpapers for your computer or smartphone. Since my mind is still in a galaxy far, far away, I'm making this edition of 4 Pallet Friday all about Star Wars pallet projects.
On Fridays we share four pallet projects that make us love free pallet wood! While there's usually a theme, sometimes it's just random ideas that we feel like sharing. You can find all included projects on our

Pinterest board

of the same name. Enjoy 4 Pallet Fridays!

View all in 4 Pallet Fridays &raquo
Star Wars Pallet Projects
If you've got any other favorites, drop a link in the comments below.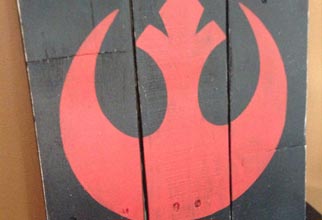 Rebel Alliance Pallet Sign
Let's start off simple. This fun sign, painted by @whenhenaps, is the perfect weekend project. Break down a pallet, cut and build into a small square sign, and paint whatever you like. In this case, symbols of the Rebel cause! This would work well as a large banner on the wall and as a small piece to add style to a shelf full of Star Wars toys.
view: original | on Pinterest
---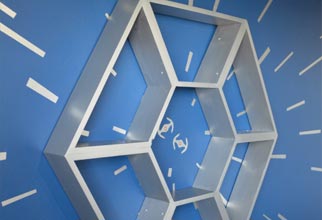 Tie Fighter Shelf
I remember seeing this project by @hertoolbelt and being enthralled with the build. The progress shots had me on the edge of my seat. Any kid's room would gain massive cool points with the addition of this Tie Fighter shelf. The warp-speed effect on the wall adds a nice touch. It would be easier to get this one done with new lumber, but it's certainly possible with pallets.
view: original | on Pinterest
---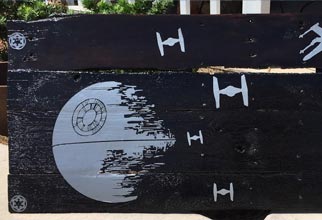 Star Wars Pallet Sign
Another sign idea. This one from @ty.moser creatively uses a burnt finish to get the black of space for the background. A horizontal, 3-plank, pallet sign is quite easy to construct. All you need here is the painting skills to pull off the design. And what better action scene than a space battle around the Death Star?
view: original | on Pinterest
---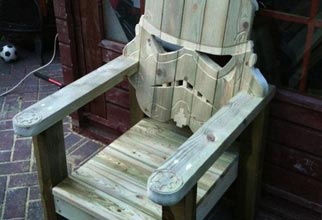 Stormtrooper Deck Chair
So freaking cool!!! This wood deck chair is one of the greatest Star Wars fan projects I've ever seen. I would absolutely love to sit in one of these on my back patio one day. This project has made it to my "must make" list for sure.
view: on Pinterest
Submit your favorites
Which of these four Star Wars pallet projects do you love the most? Do you want to make any of them? Do you have any pictures or pins that you'd like to see featured in our next 4 Pallet Friday? Let us know in the comments below or on social media with the hashtag: #4PalletFriday.