This week I'm featuring pallet wood containers. I needed some storage solutions for my messy workshop cleanup that I'm currently working on. I looked for some cheap ways to get organized, especially with my small scraps and random tools that I have laying around the shop. If you have any more storage container projects for me, share them down in the comments.
On Fridays we share four pallet projects that make us love free pallet wood! While there's usually a theme, sometimes it's just random ideas that we feel like sharing. You can find all included projects on our

Pinterest board

of the same name. Enjoy 4 Pallet Fridays!

View all in 4 Pallet Fridays &raquo
Container Pallet Projects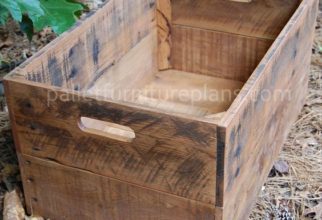 Pallet Wood Crate
It doesn't get any simpler or more useful than a wood crate made out of reclaimed wood. You can buy wood slat crates at the big box stores, sure. But they are made of boring, brand new pine and cost way too much. Instead, why not make some of these containers out of pallet wood and keep the money in your wallet and the rustic in your decor.
view: on Etsy | on Pinterest
---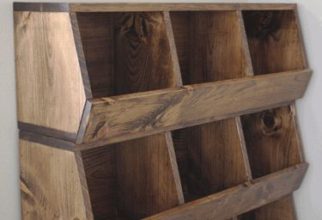 Storage Bins
If these aren't simply precious! Sorry, I'm channeling my wife, I guess. But seriously, they are tiny, cute, little cubbies. Perfect for a kid's playroom, organizing pantry items, or workshop full of little tools and supplies. They look so good that I probably won't use them in the shop though. I think they'll look great in the kitchen.
view: original | on Pinterest
---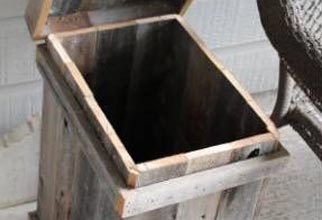 Pallet Board Trash Can
I'm having trouble finishing this post. I want to run outside and make this trash can right now! It looks great and it would definitely solve a problem in my workshop with how I currently pile my trash on the floor until I remember to throw it out. I don't want to buy a plastic can because I know I'll break it eventually. So pallet wood to the rescue!
view: original | on Pinterest
---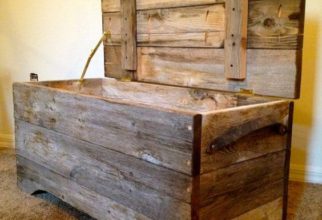 Reclaimed Wood Chest
Although it won't help me organize my workshop, I really like this chest made of reclaimed wood. I think this would work well with pallet wood, although the proportions may need to be changed. Either way, it's a great storage solution for blankets and extra pillows. I'm also considering basing a toy box for my daughter on this design.
view: on Pinterest
---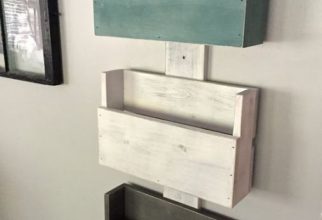 File / Folder Storage Bins
Perfect for sorting mail, keeping track of important documents, and organizing menus or magazines. This is another simple one that, when painted, can really show off your style. I've been considering something like this for my office, but made of plastic. What a fool I am! Now I know I'll have to make it out of free pallet wood instead.
view: on Pinterest
Submit your favorites
Hit the comment section below with your favorite container pallet projects. Searching for "pallet wood containers" didn't bring up many decent results. If you can share the ones you've made or pinned with me, maybe we can put together a Part 2 and help someone else out with their rustic storage needs.
Have you tried any of these container projects with pallet wood? Let us know below or on social media with the hashtag: #4PF.