Ombre means shadow in French. It also means everybody's hairstyle, smartphone wallpaper, home decor, and current trend in 2017. So where's my ombre pallet projects? Well, I could only find a handful. So maybe we need to work on that and give this subtle color-transition style a bit of rustic charm. What do you say? Let's get building!
On Fridays we share four pallet projects that make us love free pallet wood! While there's usually a theme, sometimes it's just random ideas that we feel like sharing. You can find all included projects on our

Pinterest board

of the same name. Enjoy 4 Pallet Fridays!

View all in 4 Pallet Fridays &raquo
Ombre Pallet Projects
Here's four ombre themed pallet projects to give you some inspiration. If you've got any other favorites, drop a link in the comments below.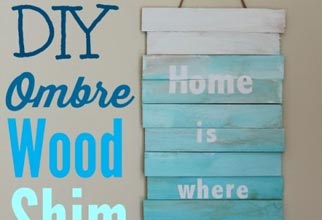 Pallet Beach Sign
First up from thehappierhomemaker: A handful of pallet boards, a few paint colors, and a light-duty rope. That's all you need to make your very own ombre beach sign. This one is simple and perfect for summer.
view: original | on Pinterest
---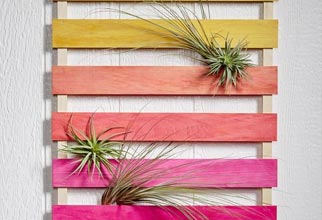 Ombre Air Plant Display
This is certainly the most striking of today's projects. Those colors are poppin'! As it turns out, those colors came from a spray tint. Kind of like staining wood, but with vibrant pigments. If you've got more figure in your pallet wood, a colored stain or tint will really make a big impact over paint. The air plants look great here too.
view: original | on Pinterest
---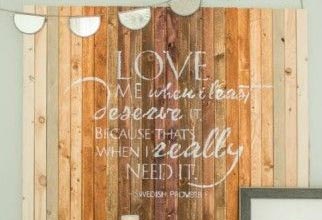 Ombre Stained Pallet Sign
Ashley, from biggerthanthethreeofus, made something really special. Staining each plank slightly darker than the last and arranging them like this makes the perfect backdrop for a quote or other artwork. Substituting pallet wood for the new lumber could only serve to make this incredible. I want to see that!
view: original | on Pinterest
---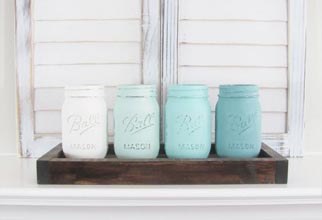 Mason Jar Holder
Some type of mason jar project is on everybody's to-do list. Right? This one just hopped up to the top. I love the ombre styling of the painted mason jars, but giving them a pallet wood home is icing on the cake. Oooo, ombre icing…
view: on Etsy | on Pinterest
Submit your favorites
Which of these ombre pallet projects is your favorite? Like I said, I couldn't find very many. Do you know of another project I missed? Do you have any pins that you'd like to see featured in our next 4 Pallet Friday? Let me know in the comments below or on social media with the hashtag: #4PalletFriday.